Maine Moose Watching & Wildlife Tours
Moose Tours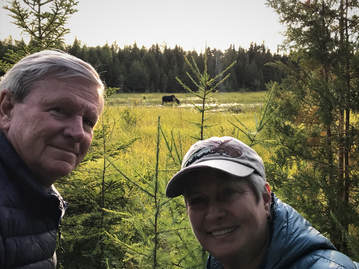 Maine Moose Watching Tours
​Enjoy a Maine Moose watching tour as you explore Moose country off road in a classic Jeep Wrangler. This unforgettable moose watching adventure in Maine is a guided tour that is fun and educational. Join Special T Adventures, personal Maine guide service, as we gear up in the Jeep and begin our moose safari tour in search of Maine's largest animal, "The Maine Moose".

Fun with Special T - Moosehead Lake Moose Tours
Even though the moose outnumber the people in the Moosehead Lake region, 3:1, moose can be elusive. In the early months, starting in May, we will see cows with their young calves. Throughout the summer, we will search for Moose off road with the wind in our hair, and the sun shining as we enjoy the beauty of the Maine Woods.
We will look for moose tracks and signs of moose. Young bulls growing their antlers, cows, and their calves. Later in the season we will look for Bull Moose in full velvet. Along the way, we will see scenic lake and mountain views, stop for a "Special T Snack", and photo opportunities.

Private guided Jeep Maine Moose Safari tour lasts 2.5 to 3 hours during the best time for moose watching. A great Maine Tour to watch Moose, photograph other wildlife and beautiful landscapes along the way. Common wildlife sightings such as: eagles, blue herons, hawks, turkeys, partridge, snowshoe hares, fox, deer, ducks, birds and much more. So what are you waiting for? Book your Moosehead Lake vacation adventure tour with Special T Adventures today. Lets have some fun in Maine looking for moose and other wildlife.



Maine Bird Tours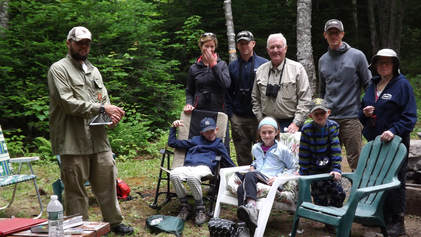 ​Explore the Moosehead Lake Region on a Maine Bird Watching Tour Rich in natural resources and abounding in beauty, Maine's abundant forests, lakes and bogs is a great place for a birding vacation to seek out a variety of the birds of New England. Birding basics is a fun educational introduction to birding activities. This private bird watching tour in Maine will focus on individual's group desires and skills adding to your enjoyment and trip satisfaction.

Use of birding resources will be discussed including tips for bird identification, their behavior, and audio sounds of their songs. In the forests opportunities exist to visit secret spots looking or perching birds, song birds, and woodpeckers where various species have been sighted before. The basic birding trip will incorporate an easy stroll in the field, as we venture off road in the woods to visit an area bog(s) and/or ponds seeking waders, ducks, dippers and divers to photograph and identify. In addition to basic birding, Moose sightings are possible making this an extraordinary trip as they often share the same habitat.

A focused birding tour request to seek out Bald Eagles can be arranged. A Bald Eagle tour incorporates a scenic off road drive offering landscape photography opportunities of rivers and bridges along the way. Bird sightings seen on this tour have included: The American Woodcock, Ruffed Grouse, Woodpeckers and Turkeys and other forest birds.

Excitement awaits, the scenery is beautiful and you just never know what wildlife and wildflowers you may discover. May and June the woods are very musical as just about everything is singing, and a great time go birding and see Moose too!

We can share observations, discuss your birding skills and cover how to attract birds for backyard birding. Responsible birding ethics, journaling, reporting sightings to bird photography opportunities are popular topics.

Birding is educational and fun family adventure that one can pursue all year round after the birding trip

What To Expect: Approximately 2 hours, includes off road Jeep Bird Safari, some easy walking, and observation stops to view as much wildlife and birds as possible.

Things you may want to bring: Camera, Binoculars, Ipad or Smartphone, Bird Identification Book, Journal and pencil

Come prepared: Wear hiking shoes or boots, bring a drink, snack, sunscreen, bug spray and appropriate outerwear for the season.
​
Eagle Tours

Maine is home to many freshwater lakes, rivers, streams, and ponds. With this beautiful landscape it offers a wonderful habitat for the American Bald Eagle. With a abundance of woods and a food source a escape to search for eagles is certainly an adventure worth going on!
​​
Loon Tours
Come along on a tour in search for the astonishing bird called the loon. It is a elegant bird that dives for its food and cans swim for many yards under water before coming up. While it swim above water it lets out a billowing call that echos for miles across the lake.