Lets Get Out An Ride!
---
ATV Adventures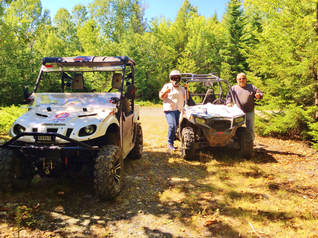 Maine has a extensive trail system that consists of miles upon miles of well maintained and scenic trails. Our trails offer the best riding in Maine! ATV's have never been safer and easier to operate. Bring your own or choose as ATV or Side by Side to rent from our local suppliers. Book a guided trip and we will be happy to take you out and show the back country beauty that our wonderful state has to offer from behind a set of handlebars. STA offers the best flexibility and widest array of tour options to help one get the most out of their adventure!


Snowmobile Fun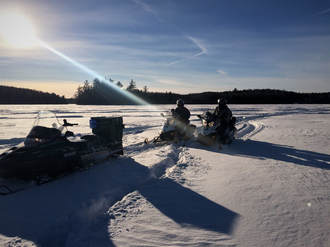 Experience Snowmobiling in Maine at it's best with a registered Maine Guide! Let's venture down snowy trails in search for adventure. Maine has thousands upon thousands of miles of snowy trails that can be a daunting task to explore or let alone navigate. So hire a guide to blaze the way. Make sure to get the most of your winter vacation snowmobile trip. Get a chance to ride trails specially hand picked by the guide for a supreme snowmobile experience. From minor pond crossings to riding Moosehead Lake, to exceptional scenic landscape views there is something to make your trip memorable.
​
Snowmobiling in Maine - Enjoy hundreds of miles of documented snowmobile trails to ride on. However, what about the snowmobile paths through the backcountry? Backcountry snowmobiling powder runs. Let me be your snowmobile guide and enjoy the ride. It can be a daunting task exploring snowmobile trails on your own. Book a tour with Special T Adventures as we forge the way through these trails that only a few know about. With the skills learned you will leave with confidence and a wider range of skills. Tools such as what to do if you get stuck by yourself, navigating new trails, how to read the trails, riding in a snowstorm, and much more! We will encounter scenic lake and mountain views, wildlife, and have a fun winter adventure while we end our tour with a memories and photos that you will always cherish. Moose sightings are possible as they tend to use these backcountry trails. Antler sheds, and moose watching is just a bonus on this exciting Maine adventure.

Bring your own snowmobile or rent one from the outfitters in town. Advance reservations required for this snowmobile trip. This is a one day class that is molded around your riding skills.
Enduro Excursions
​Nothing beats exploring Maine's landscape than venturing it on two wheels! So bring your bike and join Special T Adventures. Embark on a half day trip as I show you the lay of the land behind a set of handlebars. We will travel various terrain as we pass through mountains, wetlands, and over streams! So don't miss out, reserve your adventure today!
---
~ Flexiable Tour Options For Everyone! ~
Express Tours
Half Day Tours
Full Day Tours Last

STA Can Come To You!
---
~ Call STA At (207) 280-0661 For The BEST Rates & To Build Your Next Adventure Today!~